This email was sent to Unseen members on 4/17/14
     Greetings,
You are receiving this email because you signed up for Unseen.is for secure and private communications.
We've got a new Android app available for download and lots of other exciting news.  iPhone users, don't worry, we have iOS in development and parts are already working in our lab.  Expect to see a beta version by the end of May.
Get the new Unseen Android App
Quite a few improvements have come out as well as a design update that we will be using throughout the family of Unseen applications and web sites.  Be sure to uninstall your old Android version before installing the new one.  We expect to have this version up on the Google Play store in the next couple of days, so you can get automatic updates in the future.   Keep in mind this is a beta, so you'll might still find a few bugs, but this release is very solid.
Download the latest Android here:
Here are the release notes from our development team:
This version is a breakthrough and has a lot of changes:
1. A New Beautiful Design:
- Tabs on main screen: Contact list, Chat list, Call history
- Android 3.0 style
- Chat view redesign: Audio call button, video call button, current call button (when in call)
- Only 1 unseen account active, with Login, Logout functionality
- Search contacts and chats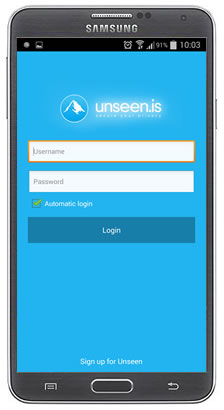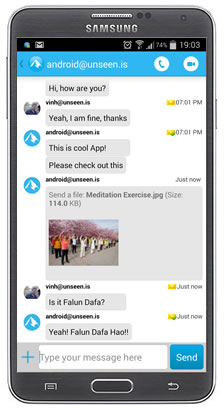 You'll soon start to see these designs flow into all the other Unseen apps.
2. We fixed the battery drain issue (nothing is worse than a drained battery!!)
3. Optimized performance:
- fixed issue: loading chats caused hanging
- fixed issue: too many offline messages caused hanging
4. Unread message display on chat list is now fixed
- offline messages + not viewed messages
5. You can now pull down chat view to get history message
6. New Emoticons and Share Button grid
- click on (+) to access Share button grid
- swipe to the right to access emoticons panel (note: this still is not working on Android 2.3)
       Everyone likes the Unseen emoticons!
7. Swipe chat view to access other active chats
8. Removed some useless settings and other items we're not using with the new design
9. We have a new UI for inviting users to chat room
10. Added new language support: Traditional Chinese, more about language support below….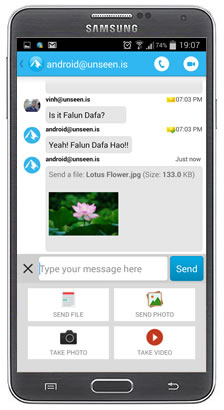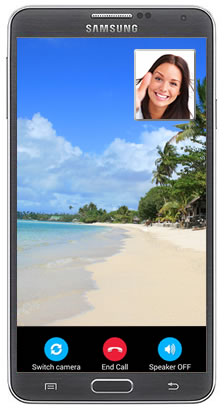 Send a file, take and send a photo or video    Video call with security from your Android
Language Support
We have an international crowd of like minded people using Unseen from just about every corner of the globe.  You believe people should have the right to freely communicate and also to do what's right and so do we.  It's nice to be able to use an app in your native language.
You've probably noticed we have support for several languages in our apps and web site;  English, Chinese and Vietnamese (in our apps).  If you have a language you'd like supported and are willing to translate a language file, we'd be happy to send you a couple of lifetime premium accounts to compensate you for your effort.  It's usually no more than a few hours work and everyone who speaks that language will appreciate it.
Please contact support@unseen.is and we'll get you the details.
Heartbeat OpenSSL Security Bug
Along with about 2/3 of the internet, we were affected by this bug and it was promptly fixed within several hours of the initial report of this problem.  If you are concerned about it, you can change your password, but you will lose all your old conversations.  Please note, we also use NTRU encryption inside the SSL, so problems with SSL have very little effect on Unseen users.  SSL does have a cute padlock in your browser, however.
The IceCloud
Right now, we're running on five dedicated servers in Iceland.  That's about to change, as we added ten new very powerful servers last month, running special cloud software.  They are almost ready to go into service and we'll be deploying them as our own cloud, the IceCloud!
Based in Iceland, the IceCloud will give us the ability to offer more free email storage, as well as expand our encrypted storage options for all premium members.  This cloud will have the equivalent of over 300 servers and about 240 terrabytes of online storage.  It's a remarkable setup and will give our users many capabilities.  It also allows us to serve up to 2 million people, so get ready to see things ramp up.
Groups, Discounts and our Affiliate Program
We welcome large groups and we're developing tools to automate the process of bringing them onto Unseen and we also offer bulk discounts.  If you'd like to earn money from Unseen, we've got an affiliate program that will give your colleagues a discount and pay you a commission.  Please contact support@unseen.is
Upgrade Your Account to Premium Today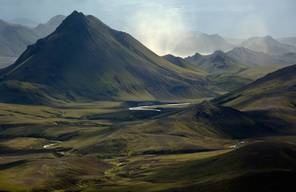 If you've been holding back, now might be the time to make the move to premium.  You get more storage, 2GB for premium users instead of 25MB for those with a free account.  You also get the ability to generate and keep your private key yourself, instead of on our servers.  Once the cloud is fully functional, premium members will have other storage features free members don't get.  You'll also get the ability to do larger groups (5+) with audio conferencing.
Read more